The inspiration that fueled Stay-Focused started with my brother, Bobby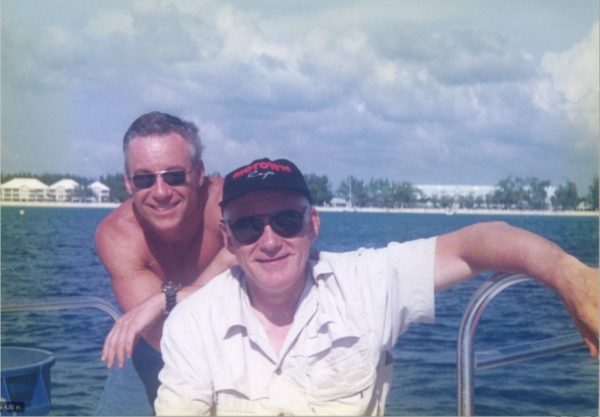 Bobby, a Marine Corps veteran who uses a wheelchair, sustained an injury in combat at the age of 22, while in Vietnam. In 1998, Bobby took a trip to Jamaica where he learned to dive. That motivated me to follow suit, so the following March I planned my own dive trip to Grand Cayman, as I wanted to be able to enjoy the sport with him. Oddly enough, neither of us had ever considered learning to dive, so it was quite unexpected we both got certified in diving in our 50s.
The name of the organization preceded the trip itself. While working as Director of Career Management at Kellogg, the MBA program at Northwestern University (1991-95), Michael Jordan (Chicago Bulls at the time) was all the rage. I recall an interview in which he attributed part of his success to his ability to 'stay focused' and avoid distraction. At about the same time, my mother, who knew nothing about golf told me she needed to end a phone conversation because Tiger Woods had just appeared on TV. Later, when I called her back and inquired about her sudden interest in golf, she explained she was intrigued by Tiger's ability to 'stay focused'… to get into the 'zone.' From that point on, the notion of 'staying focused' resonated with me.
Following Kellogg, I held a position with Booz-Allen Hamilton as the firm's Director of Career Management, where I began to think more seriously about my own career. While conducting a workshop on career management for MBA students at The Wharton School, it became abundantly clear I wanted to start a nonprofit organization. I realized the appeal of social entrepreneurship aligned perfectly with my natural preferences and that my calling entailed working with young people. While I had no idea what the organization would be, I knew the name would be Stay-Focused.
The direction in which I initially thought we were headed had European roots. I have dual nationality with Switzerland and have always enjoyed my time there … especially the year I spent working as a waiter in a Swiss ski resort following graduate school. Prior to diving with Bobby, had anyone asked me what I thought the organization would be, I most likely would have described how cool it would be to lead hiking trips in the Swiss Alps for high school students interested in learning French, German, or Italian. I still think it would have been a great way for my career to evolve – stunning mountain scenery, the smell of cheese fondue permeating the air … but the idea solidified itself entirely as a result of my dive trip with Bobby.
Everything changed when I witnessed Bobby enjoying the warm Caribbean water. As a sport so few enjoy, diving became a way to celebrate a different, yet perfectly able life. I recall the moment clearly, when we were on the dive boat following our first dive together. Bobby was relaxing in the Cayman sun, headset on, listening to Springsteen. My decision became as crystal clear as the water we were diving in: Stay-Focused would enable teens with physical disabilities to enjoy this moment … the exact same moment that was bringing so much joy to my brother.
When it became clear to me what Stay-Focused would be, I knew I could leverage my background in academia and consulting to make the organization more than just a diving program. While using SCUBA as the vehicle,Stay-Focused could evolve into a leadership development program, complete with workshops and opportunities for personal growth. Having now run programs for 16 years, much of what I hoped the organization could be has become reality. We have certified in diving 133 teens and young adults with disabilities and created a well-developed mentorship program to continue to foster and develop leadership skills in young adults.
Our participants leave Cayman bragging about a lot of things, but three outcomes have remained consistent over the years: greater self-confidence; feeling inspired; and, motivated to set higher goals.
What has always set Stay-Focused apart is our commitment to providing participants a life-changing experience and our investment in their personal development. Many of our divers have never traveled independently or needed a passport before embarking on their Cayman experience. Most have not spent a week in a hotel without a parent or guardian. These elements alone are life-changing, especially for participants between the ages of 13 and 17. Having the opportunity to experience independence and build the confidence necessary to make the trip alone resonates with our participants for life. We are also unique in offering our participants two, week-long trips to Cayman. The first to get certified in diving and master the required skills; the second, a reunion program one year later, to refresh their skills and focus on team-building activities. As PADI certified SCUBA Divers, our alumni can take their certification with them and dive anywhere in the world accompanied by an instructor. This certification is a rarity for most teens and adults … talk about bragging rights!
Running a small nonprofit has indeed been challenging, but it has satisfied my desire to engage in meaningful work, which, for me, was the key takeaway from that memorable workshop at Wharton. It took more than two years from the time of that trip to Cayman with Bobby to incorporate Stay-Focused, which I accomplished at the age of 54. My goal was to create a unique organization that would enhance the quality of life for teens with disabilities and allow me to stay involved well into my retirement years. Now in my Stay-Focused Reunion Program, Cayman, 2018 early 70s, the only place I am headed in my retirement is back into the Cayman waters with our next group of divers.