Sponsor-a-Diver 2022
 Sponsor-a-Diver 2022 builds on an initiative we launched in 2020, which we needed to postpone due to the pandemic. The good news, however, is we are looking forward to getting back to programmatic activity in the summer of 2022 and are seeking sponsorship support for our first-time divers. Sponsor-a-Diver connects a select number of Stay-Focused donors (or donor teams) with our divers throughout their Stay-Focused experience. Whenever possible, we will partner donors with participants based on known history, common interests, or geographical proximity. Sponsorship for one diver, at the $5,000 level, covers all expenses for two, week-long trips to Cayman.
---
During the first program, divers achieve their Professional Association of Diving Instructors (PADI) SCUBA Diver certification, which enables them to dive anywhere in the world, accompanied by a diving instructor.
---
---
IN THE SUMMER OF 2022, we will host one first-time diver program (6 – 8 first-time divers), and two reunion programs for divers we certified in 2019.
Best friends Ruby Elbert and Samantha McMinn had a great time during their reunion program in 2019.
Following the program, Ruby and Samantha traveled directly to their respective universities to start their freshman year … University of Illinois for Ruby and University of Arizona for Samantha … both Ruby and Samantha are members of their university's wheelchair basketball team …
---
Your Opportunity to Join the Team

In 2022, we are looking for eight donors to sponsor our first-time divers. Donors receive photos from their sponsored divers, along with thank-you notes, and a special gift from Stay-Focused in recognition of their generous support.
---
Contact
For more information about the program, please contact Ryan Chalmers, Director of Development: ryan@stay-focused.org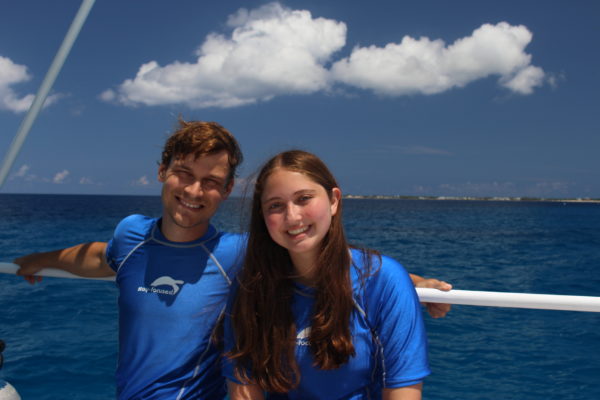 Ryan Chalmers and Stay-Focused mentor Emma Albert, Summer 2019