Sponsor-a-Diver 2020
 Sponsor-a-Diver 2020 is a new initiative, designed to connect a select number of Stay-Focused donors (or donor teams) with our divers as they enjoy their Stay-Focused experience. Whenever possible, donors will be partnered with participants based on known history, common interests, or geographical proximity. Sponsorship for one diver, at the $5,000 level, covers all expenses for two, week-long trips to Cayman.
---
During the first program, divers achieve their Professional Association of Diving Instructors (PADI) SCUBA Diver certification, which enables them to dive anywhere in the world, accompanied by a diving instructor.
---
---
In the summer of 2022, divers CERTIFIED in 2021 will return to Cayman for their week-long reunion program to refresh their diving skills
and participate in team-building activities.
Best friends Ruby Elbert and Samantha McMinn had a great time during their reunion program in 2019.
Following the program, Ruby and Samantha traveled directly to their respective universities to start their freshman year … University of Illinois for Ruby and University of Arizona for Samantha … both Ruby and Samantha are members of their university's wheelchair basketball team …
---
Your opportunity to join the Team

Each year we invite 12 donors (or donor teams) to sponsor our 12 first-time divers. Donors receive photos from their sponsored divers, along with thank-you notes, and a special gift from Stay-Focused in recognition of their generous support.
---
Contact
For more information about the program, please contact Ryan Chalmers, Director of Development: ryan@stay-focused.org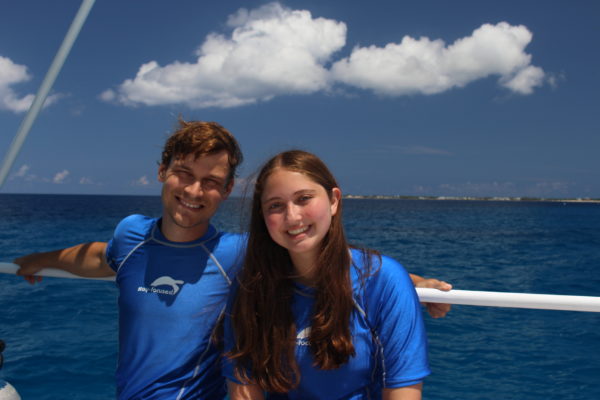 Ryan Chalmers and Stay-Focused mentor Emma Albert, Summer 2019